Cobra Kai Season 4 - The Loop
Play Sound

YMMV •

Radar

•

Quotes

• (

Funny

•

Heartwarming

•
Awesome

) •

Fridge

•

Characters

•

Fanfic Recs

•

Nightmare Fuel

•
Shout Out

•

Plot

•

Tear Jerker

•

Headscratchers

•
Trivia

•

WMG

•

Recap

•

Ho Yay

•

Image Links

•

Memes

•

Haiku

•

Laconic

•
Source

•

Setting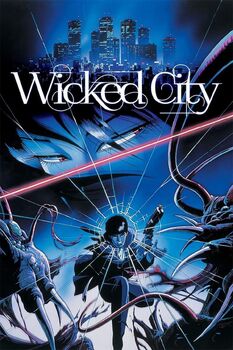 Demonic creatures coming from a parallel dimension are constantly trying to get into the human world. It's actually a phenomenon dating back many decades, hence why a special undercover police/military group has been created to deal with it: the Black Corps. Taki Renzaburou is a Japanese member of this task force, masquerading as an executive in an electronic firm, as well as one of the most badass.
Very recently, the leaders of both worlds have been working on getting a peace treaty signed. Since it needs to be ratified in our world, Renzaburou is chosen to keep an eye on the negotiations, and so is Makie, a beautiful Action Girl coming from the demon world. However, not everyone is keen on having demons and humans living in peace. . .
Wicked City (妖獣都市 Yōjū Toshi?) is an attack on the senses. It started as a series of horror novels written by Hideyuki Kikuchi: the first of said novels was adapted into an anime movie by Kikuchi's friend Yoshiaki Kawajiri (Ninja Scroll, Cyber City Oedo 808) in The Eighties, and later another became an Hong Kong action movie.
It's not for the faint of heart.
---
Tropes used in Wicked City include: