Jurassic World: Dominion Dominates Fandom Wikis - The Loop
Play Sound

YMMV •

Radar

•

Quotes

• (
Funny •

Heartwarming •

Awesome) •
Fridge •

Characters •

Fanfic Recs

•

Nightmare Fuel

•
Shout Out

•

Plot

•

Tear Jerker

•
Headscratchers •
Trivia • WMG •

Recap

•
Ho Yay

•
Image Links

•

Memes

•

Haiku

•

Laconic

•
Source

•

Setting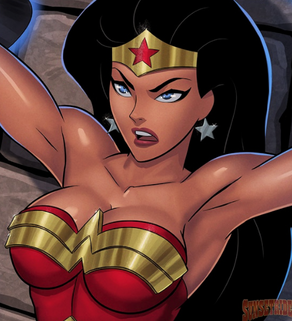 The Princess of Truth. The Princess of the Amazons. The Female Superhero.
The first prominent female superhero in The DCU the history of comic books, and generally considered the greatest of the superheroines, was created in the 1940s. Wonder Woman is distinguished by her indestructible bracelets, which deflect bullets, and her enchanted lasso, which compels men to tell the truth and puts animals to sleep.
She was created in 1941 by psychologist William Moulton Marston (then an educational consultant to DC Comics) along with his wife Elizabeth Holloway Marston, as a deliberate counterpoint to the all-male stable of "Übermenschen" published by DC at the time. Marston was remarkably free of the era's usual prejudices about and disdain for women (though this was partly because he was an admitted masochist who fetishized powerful women), and intentionally designed the character to embody his image of an idealized strong, unconventional and independent female. The character first appeared in "All Star Comics" #8 (December, 1941).
As a historical note, Marston was also vital in the development of the polygraph ("lie detector") — which may be why Wonder Woman's lasso forces criminals to speak the truth. Marston also had unconventional sexual views (He and his wife had a third partner, Olive Byrne—unconventional by today's standards, grounds for arrest or even public stoning in 1941). He also practiced BDSM and/or bondage, thus many of his stories had elements of this; see the "Suffering Sappho!" section of Superdickery.com for some examples.
He also had very unconventional views on how the world should be run for the time he lived in, believing a Matriarchy would be superior to the male-dominated world of the 1940s. This was the basis for Paradise Island.
Due to the deal Marston struck with DC, for a long time (at least through 1986), DC had to publish at least four issues of Wonder Woman each year or lose the rights to the character. This may have been one of the reasons that she was one of the few superheroes who continued publishing during The Interregnum, along with Superman, Batman and a handful of others. Her longevity is certainly one reason that contributed to her being one of DC's "Big Three"—as Frank Miller described it—Wonder Woman, Superman and Batman, are all the "gods" of the DC Universe, and the rest are all "just" heroes (something that is taken to its logical extreme in the Kurt Busiek/Mark Bagley year-long series Trinity). Also playing a big role: her 1970s TV series with Lynda Carter and her visibility in the Superfriends cartoon, as noted below.
Originally, Wonder Woman's powers were relatively limited, compared to her contemporaries. She was strong, but not as strong as Superman. She was fast, but not as fast as the Flash. She couldn't fly, but she could "glide on air currents". Most of her powers were gadget-based; the bullet-deflecting bracelets, the Lasso of Truth, the invisible jet. The Silver Age version of the character was stated as having the Strength of Hercules and the Speed of Hermes, deities who were shown to be a match for Superman and Flash, respectively, in other series. Wonder Woman herself battled Superman to a standstill in the tabloid-sized special comic "Superman versus Wonder Woman".
The bosomy, raven-haired Amazon heroine was never as well-known by the general public as the other "big heroes" until the 1970s, thanks to Shannon Farnon, her voice actress on Superfriends, and Lynda Carter, who portrayed her in prime time. In addition, feminists loved her, as evidenced by her being on the cover of the premiere issue of the movement's flagship magazine, Ms.
At the same time, however, Wonder Woman was undergoing a Retool; with the popularity of shows like The Avengers, and its visions of strong Action Girls, she lost her powers, took up martial arts under inscrutable old Oriental guy I Ching, and became Undercover Agent Diana Prince. Ironically, this period was mostly ended by the above feminists, such as Gloria Steinem, who protested the depowering of a strong female character. As a result, Diana was repowered and rejoined the Justice League, and the whole episode is considered a Dork Age.
Later, she was revamped for Crisis on Infinite Earths by the comics legend George Perez. She was powered-up, giving her flight, and tying her much more to Greek mythology and a mission as a messenger of peace to "Patriarch's World". Furthermore, she considered a Secret Identity obviously counterproductive in that role, so she stayed with her new friends, Julia Kapatelis, a classical Greek scholar, and her daughter Vanessa. Furthermore, Steve Trevor was revised to be old enough to be Diana's father, thus precluding the cliche romance; instead, he romanced Etta Candy. However, it turns out that he is indirectly linked to Diana's home since his mother, Diana Trevor, crash landed there and died helping the Amazons defeat a monster, making her a deeply honored hero to them.
In addition, she was simultaneously made much more naïve and tougher. The naïveté is such that Wonder Woman could not conceive of a woman being an enemy, which made the time when the Cheetah tried to con her out of her lasso an extremely upsetting moment. The toughness comes from being a classically trained warrior who is ready to kill as necessary and with no regrets, such as when she decapitated the villainous god Deimos. At the same time, her supervillain enemies became much more credible threats as in how the Cheetah was changed from a normal woman in a silly cheetah suit to a villain who became a powerful and deadly were-cheetah who is a real challenge to Diana in battle.
A popular (and therefore cheapened) way to escalate the drama in Wonder Woman stories (or Crisis Crossovers) recently has been to threaten Paradise Island... and then make good on the threat. The Amazons have been all-but-destroyed by Darkseid, themselves (in two civil wars), Imperiex, Hera, OMACs, Granny Goodness in the wake of Amazons Attack, and in Alternate Universe by the removal of the gods' protection.
In the mid-2000s run written by Greg Rucka, she suffered from a negative reaction in-universe, between escalating her role as emissary, leading to accusations of forcing her beliefs on people, and snapping the neck of a villain who had telepathic control of Superman because she felt it was the only way to stop him. In the middle of all this, she fought shadowy corporate schemers, resurrected Gorgons, participated in the hostile takeover of Olympus by her patron, Pallas Athena, and faced the destruction of her home by OMACs.
After Rucka's run and the OMAC crossover event, Wonder Woman was again rebooted. This time, she reluctantly got involved in a war between the Amazons (along with her newly resurrected mother) and Patriarch's World. In the wake of all this, she regained (or rather gained for the first time in this continuity) her Diana Prince: Secret Agent identity in order to connect with people. Many fans were not pleased. However, there was some delight at Wondy's appearance in Manhunter, when she enlisted Kate Spencer's services as a lawyer during her trial for the killing which occurred during Rucka's run.
In the late 2000s, Wonder Woman's series was in the hands of Gail Simone. Her supporting cast was revisited and she went up against a series of monsters including the ultrapowerful Genocide, her mother's former bodyguards, a grief-stricken Green Lantern, her own pantheon, and some long-lost family members who were abducted by a vicious alien race. The tales were epic, twisty and generally well received. Gail is the first woman to have ever written Wonder Woman's comic for a long period of time and deeply loves the character. However, Gail was not the first woman to write the comic, as Jodi Piccult wrote it almost immediately before her (but was not received very well), and Mindy Newell wrote it in the 80s and 90s.
Sales on the book continued to drop, so when Wondy's 600th overall issue (and a renumbering of the current series to reflect that) came around, J. Michael Straczynski shook things up. In his year-long storyline "The Odyssey" (completed by Phil Hester), the gods went back in time to remove their protection from the Amazons. As a result, Paradise Island fell when Diana was a little girl, and a handful of Amazons smuggled her out and raised her on the streets of Man's World. During the story, Diana struggles to regain her powers and understand why the world seems disastrously wrong around her.
After "The Odyssey" ended, Brian Azzarello and Cliff Chiang took over the title and relaunched it with a new #1 issue as part of DC's New 52 reboot. Their run on the book was much Darker and Edgier with more horror-influenced than previous runs, though like many Wondy writers and artists before them, they did not read very much of her history when they took the assignment. Wonder Woman once again sported a new costume, though it is much closer to the original than the suit from the JMS run. Azzarello and Chiang's first issue was met with a large amount of critical acclaim, though the graphic violence was criticized by some. Like Greg Rucka's run, Azzarello and Chiang approach Wonder Woman's world through the world of the Greek gods, though the difference between the two approaches is quite clear. As time passed, the run's examinations of gender and mythical themes earned it praise and controversy in equal measure.
Following the end of the New 52, Wonder Woman got a new comic in the DC Rebirth sub-line.
Beyond the main continuity of DC Comics, Wonder Woman is a semi-regular presence in other adaptations, usually, but not exclusively, showing up as part of a completed Justice League rather than headlining her own media like Superman or Batman. Though part of DC's Holy Trinity alongside the Man of Steel and the Caped Crusader, Wonder Woman sadly hasn't left quite the pop culture impact that they have, something that seems the result of so many radical reinventions of the character leaving new writers unsure as to how to adapt her.
She has appeared in these other media
---
Tropes associated with Wonder Woman include
 Sarge Steel: "... You'd still be one of Circe's pigboys."

Nemesis: Wolfmen. A small but important distinction."
 Wonder Woman: I warn you, the gods granted me the speed of Mercury.

Flash: Oh, I'm sorry. I thought you were fast.
↑ Wonder Woman (vol. 3) #35