She-Hulk Trailer Dropped - The Loop
Play Sound

YMMV •

Radar •

Quotes

• (
Funny •

Heartwarming •

Awesome) •
Fridge •

Characters •

Fanfic Recs •

Nightmare Fuel

•
Shout Out

•

Plot

•

Tear Jerker

•
Headscratchers •
Trivia • WMG •

Recap

•
Ho Yay

•
Image Links

•

Memes

•

Haiku

•

Laconic

•
Source

•

Setting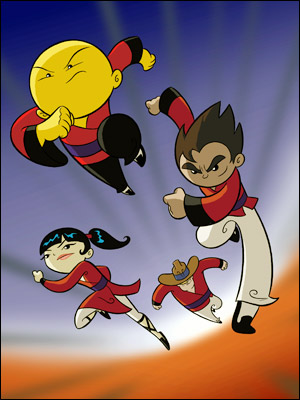 A Emmy Award-winning Warner Bros cartoon, Xiaolin Showdown (2003-2006) follows the adventures of four teens (well, three teens and one child) selected to become the next Xiaolin Dragons:
Omi, the precocious young Chinese monk and Dragon of Water;
Clay, the strong, steady Texan cowboy and Dragon of Earth;
Raimundo, the sharp-tongued Brazilian surfer dude and Dragon of Wind;
and Kimiko, the tech-savvy Japanese hothead and Dragon of Fire.
Along with their standard monk training, they are tasked by Master Fung to collect mystical Xiaolin artifacts known as the Shen Gong Wu, which were scattered around the world by the original Xiaolin Dragon, Dashi, and Dojo Kanojo Cho, a cowardly size-shifting dragon. Whenever two (or more) people enter a standoff over a Wu, a Xiaolin Showdown occurs, with the winner taking all the gambled Shen Gong Wu.
In their quest for the Wu, they battle an assortment of villains, including Jack Spicer, a Teen Genius mech designer who just wants to be taken seriously; Wuya, a Heylin witch sealed as a ghost inside a puzzle box who will do anything to regain her living form; Chase Young, an immortal Visionary Villain with designs on Omi; and Hannibal Roy Bean, who is indeed a bean. The numerous Shen Gong Wu change hands rapidly, permitting neither side any real advantage until one of the characters - hero, villain, or otherwise - decides to get serious.
Perhaps best known for its surprisingly well-developed central cast, its collection of voice acting talents, and its general aversion to Anvilicious Aesops, Xiaolin Showdown was the ratings darling of the Kids WB Saturday morning block. However, it only lasted three seasons, or 52 episodes, all of which are readily available on Youtube.
A revival titled Xiaolin Chronicles is planned to start in Spring 2013. You can see work-in-progress clip here.
---
This series contains examples of:
Actor Allusion: Jennifer Hale playing a cat-like cat burglar.
Aesop Ju Jitsu: The Enemy Mime episode.
Affably Evil: Jack Spicer.
All-Star Cast: The show has some of Western Animation's most famous voice acting names in it. See Hey, It's That Voice! on the Trivia page for details.
Ambiguously Gay: Jack has more than a few girly atributes. As well as a somewhat suspect admiration for Chase Young. He did call himself a queen, and in the evil future where he takes over? He apparently has Chase Young constantly being tied up in nothing but his underwear, dripping wet, and with yellow paint being slathered on his abs.

Well, he seems more ambiguously bi than anything, since in the evil future, Jack had Wuya hanging on the wall wearing a short cheerleader outfit, and in an earlier episode he created countless cheerleader androids and enjoyed kissing one, so yeah.

Americans Are Cowboys: Clay. Odd in that it's an American cartoon.
Anime Accent Absence: Western example: Grey DeLisle uses her typical American pre-teen voice for Kimiko, although her character is born and bred in Japan.
Animesque: The show's Chinese setting, the constant face faults, the kung fu movie-like plot and the Asian-like art style. Not a surprise, since the show's creator is Chinese.
Art Evolution: The second and third seasons' animation improves significantly from the first.
Art Shift: The flashback of Guan's fight against Chase is shown in a sketchy, black-and-white, but otherwise more realistic art style.
Artifact of Doom: The Sapphire Dragon, the only wu we see that can act on its own, and easily one of the scariest. Its breath turns people into sapphire statues, which it can then control once it grows powerful enough. The Heart of Jong may also qualify.
As Long as There Is Evil: A theme at the ending of the series is that no matter how many times the monks defeat evildoers, as long as there are people in the world, evil will never truly be defeated. The last two episodes are even called "Time After Time" which implies this theme even more.

Master Fung says that evil is never defeated, it merely changes its path and form.

Atlantis: An aside mention from Master Fung revealed that Dojo is the main reason Atlantis sunk in the first place, due to being evil at the time. It later appears,

is overrun with giant spiders, and is destroyed to lock the spiders away

.
Attack Pattern Alpha:

In the middle of season 2, the Xiaolin Apprentices learn to do this: "Dragon X-Kumai Formation!"
In the third season, they learn a more advanced and more powerful version: "Wudai Orion Formation!"

Badass Grandpa: Master Fung and the blind old man.
Badass Long Hair:

Chase Young.
Wuya in her flesh form.
Omi in his dream world.

Bad Future: The first part of the two-part series finale.
Bald of Awesome: Too many to list here.
Bash Brothers: The Xiaolin warriors, who have actually used more than a few of the moves described on the trope page. Clay and Raimundo also enjoy this kind of relationship.
Beat Still My Heart: Chase Young rips out the "heart" of one of Wuya's rock monsters.
Belligerent Sexual Tension: Raimundo and Kimiko, even filling the correct character types. Although the attraction is seldom played up, the episode "Dream Stalker" makes it perfectly clear that Raimundo is interested in Kimiko.
Big Bad Ensemble:

Wuya, Chase Young, Hannibal Bean, and Jack Spicer.
Specific episodes also have Panda Bubba, Sabini, the Sapphire Dragon and Mala Mala Jong, amongst others.

Big Brother Instinct: Clay, to Omi and Kimiko. Raimundo to Omi as well, though their relationship often verges on Sibling Rivalry.
Big Ego, Hidden Depths: Omi, Raimundo, and Kimiko each get at least one of these, which are described in greater detail on their character pages.
Bishonen: Chase Young. Especially 1500 years ago, in Time After Time, when we first see what he looked like when he was a Xiaolin monk.

YMMV Most of the female fanbase sees Jack Spicer as this.

Bizarrchitecture: A Xiaolin Showdown warps the competitors (and their friends) into a just-plain-surreal version of their surroundings. We never find out what this looks like to people outside the Showdown area.
Blazing Inferno Hellfire Sauce: "Grandpappy's Texas Tin-Horn Sizzlin' Salsa Sauce". It lives up to its name.
Blind Seer: The blind old man.
Blow You Away: Raimundo's powers.
Blunt Metaphors Trauma: A Running Gag with Omi. Raimundo eventually turns this into a threat: "What Omi did to that sentence is what we're going to do to you!"
 Omi: I command you to spill your internal organs now!

Jack: What kind of sick people are you?!

Raimundo: I think he means "spill your guts".
 Raimundo: Where have I heard that before? Oh, yeah. "Previously, on Xiaolin Showdown." (Raimundo holds open his eyes wider which shows the Xiaolin Showdown logo.)

(Everybody grins and gives a thumbs up or two to the camera.)
| | | |
| --- | --- | --- |
| |  Raimundo: Okay, they've gotta be making some of these up. | |
Card-Carrying Villain: Every villain explicitly announces themselves as evil, and practically revels in being so - even

Raimundo and Omi

did so during their brief stints on the side of evil.
Cassandra Truth: Raimundo, frequently, to the other monks. Although they seldom have a valid reason to doubt him, his reputation as an impulsive Jerkass hedonist (albeit one with a heart of gold) often makes them skeptical of him. Related to The Complainer Is Always Wrong.
Catgirl: Katnappe; not an actual cat girl but cat-themed, so she still qualifies.
Cerebus Syndrome: After the arrival of Chase Young, the show became more of an action/drama than an action/comedy. Admittedly, this was still an action/drama with regular fart jokes.
Character Name Alias: Chase Young is known at least to a couple other characters as the Prince of Darkness...there was another guy who had the same alias as that. He was the guy who got kicked out of the big, shiny house by his dad and is also known as the "Father of Lies" and "The Roaring Lion."
Chekhov's Gag:

In a Season 2 episode, Clay is seen playing with a number of dolls (most of them resemble Transformers dressed as cowboys, along with a dinosaur and a covered wagon). This is funny enough on its own, but they reappear in "Life and Times of Hannibal Roy" (Season 3, Episode 3) being played with by Raimundo, Kimiko, and Omi.
At one point, Clay rambles about the desiccation process spiders use to feed. At the monks' strange looks, he replies, "What? A cowboy can't have a hobby?" Then, some dozen or so episodes later:
| | | |
| --- | --- | --- |
| |  Clay: Nothin' I dislike more than a smart-alec Tersiops truncatus. (Beat) Bottlenose dolphin. | |
The whole "What? A cowboy can't X?" is actually a Running Gag, albeit an infrequent one.
| | | |
| --- | --- | --- |
| |  Jack: No, no, no! Gloating first, then we crush them! | |
Cooking Duel: The actual challenge of a Xiaolin Showdown can be just about anything, although the surroundings usually play a part.
Cool and Unusual Punishment: In "The Return of Master Monk Guan".
Turned out to be a Subversion: Raimundo was the Reverse Mole and the whole thing, including the punishment, was a set up to make Hannibal Bean believe that Raimundo could be turned to his side.

Cool Train:

Jack built one that turned into a mecha for the New York episode. Dojo briefly shapeshifted into an organic train to keep up with it, but he prefers to avoid doing so — that third rail really chafes.
In "Treasure of a Blind Swordsman", Jack robs the protagonists and makes his getaway on a flying train. The monks catch up later, leading to multiple fights atop the train.

Crazy Jealous Dragon: Dojo has certain issues with living apart from Master Fung for any length of time. Particularly evident when Fung temporarily hires a new female dragon assistant

and when Good!Jack starts doing all of Dojo's jobs

.
Creepy Child:

Heylin!Omi

while kicking Raimundo and Clay's asses. He gets even creepier when he speaks:
| | | |
| --- | --- | --- |
| | | |
 Kimiko: I can't understand a single word dem folks are singing about. And I use the term "singing" miighty loosely.

Clay: I do not talk like that! Do I?
| | | |
| --- | --- | --- |
| |  Kimiko: (giggle) You know, if I wasn't me (snort) I could be... (Beat) Somebody else! (psychotic giggle) | |
| | | |
| --- | --- | --- |
| |  Raimundo: Sounds like "end of the world" time again. | |
 Master Fung: It has already begun: a thousand years of darkness!

Kimiko: Why a thousand?

Master Fung: It is actually 962 years, but "a thousand" sounds more ominous.
Face Heel Turn: Chase Young and Guan

by Hannibal Bean

(but seperate occasions). Chase Young had his first out of immortality, but he's proven to be more evil than Hannibal Bean. Omi went back in time to prevent this. It worked, but it wound up making Guan making his face heel turn. However, Chase had no choice but to have a face heel turn himself.
Failure Is the Only Option: The Shen Gong Wu change hands very quickly, preventing any side from gaining a real advantage. See Easy Come, Easy Go.
Fire-Breathing Diner: Dojo uses some of Clay's family recipe hot sauce to weaponize this trope.
Flanderization: In the first season, Omi's sizable ego was clearly shown to be the result of his youth and lack of social skills.[4] From the second season onward, Omi's ego became his defining characteristic rather than a side-effect of his other traits.

A specific example: Omi's "sexism" towards Kimiko was originally a one-off gag in episode 3 playing on his naivete. He had no idea that his words were offensive or even incorrect. In season 2, Omi developed an actual sexist attitude towards Kimiko and insulted her with full awareness that she would be offended, but only when he was jealous or mad at her for some reason.
Omi has repeatedly abused Raimundo with this as well, bringing up the fact that Raimundo has betrayed the team, and took him the longest to be promoted anytime it is convenient to kick Raimundo down. And it usually happens when Rai is right next to him.

Foot Focus: Wuya in her sexy human form.
For the Evulz: Katnappe.
Four-Temperament Ensemble: Kimiko is sanguine, Omi is melancholic, Raimundo is choleric, and Clay is phlegmatic.
Full Set Bonus: The Shen Gong Wu.
Funny Foreigner: Mostly Omi, although each of the cast members have their moments.
Future Badass:

Jack

, who somehow managed to defeat the Xiaolin Dragons and every other Big Bad on the show before taking over the world and converting it into a squalid dystopia.
Genius Bruiser: Clay's hobbies include animal identification, taxonomy, trivia, etc. Sadly, this never becomes a Chekhov's Hobby (though it is used as a Chekhov's Gag, above).
Genre Savvy: Raimundo, who enjoys lampshading whenever it "sounds like end of the world time again."

When the monks fail to open the Treasure of the Blind Swordsman, Raimundo's Genre Savvy enables him to recognize that the blind old man was "talking like the Fung-meister". He subsequently figures out the koan and successfully opens the Treasure.

Go-Karting with Bowser: After their team-up to defeat Wuya in the season 2 opener, Omi tries to convince Jack to switch sides permanently. Jack isn't persuaded, but suggests they go out for ice cream sometime when they're not fighting over Wu ("My treat."). Sadly, we never actually see this.
Hair-Trigger Temper: Kimiko.
Handicapped Badass:

At the start of season three,

while a temporarily disabled Master Fung fends off Chase Young alone. Whilst in a wheelchair. And typing out his attacks with chopsticks on a laptop.

Also the blind old man guarding the Treasure of the Blind Swordsman.

Hands Play in Theater: In "Dream Stalker," when Raimundo dreams he's watching a movie with Kimiko.
Hannibal Lecture: True to his name, Hannibal Bean uses these often. Sometimes he succeeds, sometimes he doesn't.
Heel Face Revolving Door:

Raimundo

switches sides a couple of times throughout the length of the series.

Omi, too.

Jack as well.

Heel Face Mole:

Subverted in Jack's case. While he does betray the team it's revealed that he did honestly make a genuine effort at being a hero.
The Yin and Yang Yo-Yos separately also constitute revolving doors, as shown in the showdown between Kimiko and Wuya in which they switch between good and evil several times.

Heroic Sacrifice:

In the first part of the series finale

the elderly Xiaolin Warriors during, and the alternate Chase in part two, allowing himself to become evil in order to help restore the timeline.

Good Jack does the same thing in "Finding Omi," allowing himself to be turned evil again in order to save the others' chi. During the same sacrifice, Good Jack uses the Ring Of Nine Dragons to split himself up into two, and one pulls another sacrifice for the other, holding back a monster in the Ying Yang World while the other retrieves the chi and leaves (turning evil in the process). This has the result of making regular Jack even more evil than usual, though in general it doesn't end up mattering much.

In the warped future where Jack rules the planet and Chase Young is good, Chase agrees to turn evil to buy the Dragons time to find the frozen Omi and revert the world to normalcy.

Hollywood Hacking: Kimiko, frequently.
Hood Ornament Hottie: Wuya, when offering Raimundo truckloads of stuff to keep him on her side.
Horde of Alien Locusts: The Giant Spiders from "Dangerous Minds". According to Master Fung: "The spiders are neither good nor evil. They are simply... consumers. They consume vegetation, animals, buildings, even the earth itself. They eat until there is nothing left to eat."
Hypocritical Humor:

In "Hear Some Evil, See Some Evil", when Kimiko read Clay's mind about her being angry all the time:
| | | |
| --- | --- | --- |
| |  Kimiko: Angry? Me? I'm not angry. I'm the least ANGRY PERSON I KNOOOWW!!!! | |
Raimundo is also a fan of this.
An Ice Person:

Omi, when using the Orb of Tornami.
Raksha, the snowman formed from the Heart of Jong in the episode "The Deep Freeze".

I'm Standing Right Here: Raimundo is often a victim of this from Omi. As is Jack Spicer, but from everyone.
 Omi: If I had hair, it would be standing on end!

Dojo: If I had boots, I'd be quaking in them!

Clay: Wanna borrow mine?

Dojo: No thanks, no feet.
 Wuya: Why do you build these stupid machines?! They're useless!

Jack: Mom said I needed a hobby.
| | | |
| --- | --- | --- |
| |  Omi: Wudai Warriors, double your efforts! Raimundo, triple yours. | |
| | | |
| --- | --- | --- |
| |  Dojo: I hate to admit it, but, for an evil villain, you have been very hospitable! | |
| | | |
| --- | --- | --- |
| |  Clay: That's the second biggest tongue I have ever seen! | |
| | | |
| --- | --- | --- |
| |  Raimundo: Dojo! Get out of the shot! | |
| | | |
| --- | --- | --- |
| |  Raimundo: Can't anyone speak normally around here? | |
Scaled Up: Chase Young can transform (and will if he doesn't eat enough special soup) into a half-human half-dragon thing.
Scooby Stack: More than once.
Screams Like a Little Girl: Jack Spicer; often the scream is that of an actual little girl instead of Jack's voice actor.
Sealed Evil in a Can: Lots and lots. It seems that almost every antagonist in the series, including two of the main antagonists (Wuya and Hannibal Bean), is some sort of Sealed Evil in a Can that is set free by one or more of the four Dragons-in-Training or Jack Spicer.
Self-Duplication: A weapon allowed the user to duplicate himself, but cut his power into equal portions and leads to Literal Split Personality.
She Cleans Up Nicely: Kimiko in her kimono from the episode "Tangled Web" - although the moment (complete with eye-widening and gulping) actually happens in "Dream Stalker," when Raimundo sees her in his subsconscious.
Ship Tease:
Shonen Hair: Jack has this.
Shonen Upgrade: A number of them, largely taking the form of signature moves/Shen Gong Wu and super modes.
Shout-Out:
Silence, You Fool: Omi gets a particularly polite example.
Slapstick Knows No Gender: Or age, for that matter - all of the main characters, even Kimiko, get roughed up a fair bit both humorously over the top and not on a constant basis, in a medium which usually wouldn't use them for extreme slapstick, being teens and all.
Slasher Smile:
Slouch of Villainy: Jack, during his short-lived takeover of Chase Young's fortress.
The Slow Path: Omi gets around this by using the Orb of Tornami to turn himself into a Human Popsicle. He got there first, Aang.
Smart People Play Chess: Raimundo shows a surprising knack for it while playing against a talking dinosaur with a British accent.
The Smurfette Principle: Kimiko.
Snowlems: The Heart of Jong creates an especially nasty one. "All that upper body strength and a killer Evil Laugh!"
Some Kind of Force Field: Averted with Le Mime - his boxes are constantly invisible, even when you walk into them. They're also soundproof, so Clay has no idea why the others aren't speaking until Rai goads him into walking into it. Rai then spoofs the stock phrase as he sees Clay's reaction: "It's...some...sort...of...in-vi-suh-ble-box. Ai, took him long enough."
Songs in the Key of Lock: The vault.
Sorry to Interrupt:

The Xiaolin Dragons walking in on Dojo clipping Master Fung's toenails.
And the, ah, awkward bathtub moment between Dojo and Chucky Choo.

Spikes of Villainy: Chase Young, in spades - a running gag has a character be near him, only for spikes to pop out of his clothes and scare them. This happens to his underwear at one point.
Spoiled Sweet: Kimiko and Jack Spicer.
The Stoic: Chase Young.
Stone Wall: The Two-Ton Tunic makes the bearer impervious to all attacks, but its weight and encumbrance reduces their agility by a lot (though the Reversing Mirror can negate this drawback if used in combination with it.)
Surprise Checkmate: Justified in "Oil in the Family" because the T-Rex isn't playing to win: it's trying to trap/knock out Raimundo with the giant chess pieces so it can eat him. Raimundo, meanwhile, is focusing on the checkmating the T-Rex to win the showdown.
Teeth-Clenched Teamwork: The villains during their team-ups.
Time Travel:
Took a Level In Jerkass: Omi's pride got worse and worse each season. See Flanderization.
Top-Heavy Guy: Clay, and a few others.
Tradesnark: Jack, often.
True Companions: Particularly for Omi, who's an orphan.
Tsundere: Kimiko
Un Evil Laugh: Jack Spicer's very own "New Trademark Evil Laugh" is... Something else.
Unholy Matrimony: Initially, Chase Young and Wuya have problems in their alliance (namely, she has Chronic Backstabbing Disorder), but by the end of the third season, they've decided to stop arguing and stay together for the sake of evil.
Verbal Tic: In "Hear Some Evil, See Some Evil", Kimiko can't stand the way Clay talks.
 Clay: Omi, that's about as lowdown as a snake's bellybutton!

Kimiko: Snakes don't have bellybuttons!
And from "Wu Got the Power":
| | | |
| --- | --- | --- |
| |  Clay: MY SANDWICH! NO! NOOOO! | |
| | | |
| --- | --- | --- |
| |  Raimundo: Clay, man, haven't you heard? Chivalry is dead. | |
You Will Know What to Do: Somewhat subverted in the first season finale; Master Dashi's new puzzle box "will only open when the one who needs to open it, opens it."