Hawkeye Is Here To Amaze - The Loop
Play Sound
YMMV

Quotes

(Funny

Heartwarming

Awesome

)

Fanfic Recs

Analysis

Trivia

WMG

Image Links

Haiku

Laconic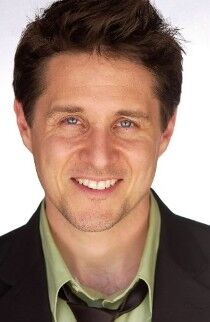 Yuri Lowenthal is a VA from California that is probably one of the most prolific in the industry right now. In fact, his work is getting so common in the North American industry that he may as well be his own trope. He is usually cast as the Kid Hero of the series, some examples being Simon and young Superman. Despite all those roles, he is probably best known as the voice of Anti-Hero Sasuke Uchiha in Naruto.
He has provided the voice of Luke fon Fabre in Tales of the Abyss, Kamal in the Halo tie-in Alternate Reality Game I Love Bees, and Cecil Harvey in the Nintendo DS remake of Final Fantasy IV and Dissidia Final Fantasy. Ironically, he doesn't voice Yuri Lowell in Tales of Vesperia; that role went to Troy Baker instead (Lowenthal, for once, did not have a role).
His range tends to be rather limited, with most of his roles demanding nothing more than "normal American accent", which is close to his normal voice anyway (although this is probably due to him being typecast quite a lot). Saying that, he can also pull off a pretty good Creepy Child voice and has a wide range of regional accents for when the role calls for them.
Currently married to fellow VA Tara Platt, who voice Mitsuru in Persona 3 where he voiced the MC. He and Tara also co-authored a book called Voice-Over Voice Actor: What It's Like Behind the Mic, which gives their personal experiences in voice acting and advices to newcomers. This book is often referenced and recommended by many veteran voice actors at conventions like Steve Blum, Crispin Freeman, Sam Riegel, Kyle Hebert, and Vic Mignogna.
Yes, his first name is Yuri. We're sure he's heard every joke you have in mind.
And did we mention that he is good friends with Doug Erholtz?
---
Animated VA Roles
Afro Samurai: Jinnosuke/"Kuma"
Batman the Brave And The Bold: Tuftan and Mr. Miracle.
Ben 10 Alien Force/Ben 10 Ultimate Alien: Ben Tennyson/Alien X, JT (in "Ben 10 Returns: Part 1") and Albedo.
Bobobo-bo Bo-bobo: Rice, Megafan
Bleach: Keigo Asano, Young Renji Abarai, Young Byakuya Kuchiki, Additional voices
Blue Dragon: Shu
Code Geass: Suzaku Kururugi
Digimon Tamers: Kai Urazoe [movie]
Digimon Data Squad: Neon [ep. 8]
Durarara: Shinra Kishitani

El Chavo

: Junior
Ergo Proxy: Daedalus Yumeno
Eyeshield 21: Sena Kobayakawa
Gankutsuou: Raoul de Chateau Renard
Girls Bravo: Yukinari Sasaki
Gods Eater Burst: Soma
Gun X Sword: Joshua Lundgren
Gundam Unicorn: Riddhe Marcenas
Hellsing Ultimate: Pip Bernadotte
Huntik: Secrets & Seekers: Lok Lambert--because appearing in every California-recorded show wasn't enough.
Hare+Guu: In an amazing case of playing against type, Waji, the kid who never stops laughing.
Legion of Super-Heroes: Superman, Superman X
Monster: Karl Neumann
Naruto: Sasuke Uchiha
Noein: Yuu, Makoto Shinohara
Paprika: Dr. Tokita
The Prince of Tennis: Katsuo Mizuno, Keigo Atobe
Rave Master: Haru Glory
Robotech: The Shadow Chronicles: Marcus Rush
Saiyuki Reload: Son Goku
Scrapped Princess: Leopold Scorpus
SD Gundam Force: Bakunetsumaru
Tengen Toppa Gurren Lagann: Simon
Ultra Maniac: Hiroki Tsujiai
Wolverine and the X-Men: Iceman
Zatch Bell!: Danny; Donpocho; Kory
Video Game Roles
.hack//G.U.: Haseo, Additional voices
Ace Combat Zero: The Belkan War: Larry 'Pixy' Foulke (voice segments only)
Armored Core For Answer: Cube, additional voices
Assassin's Creed II: Vieri De Pazzi
Baten Kaitos Origins: Giacomo
Bayonetta: Luka
Bioshock: The spider splicers in the sequel.
Call of Duty: Black Ops: Additional voice for several missions, most notably "Rebirth".

"Nova 6! Hazmat suits, NOW!"

Castlevania Judgment: Alucard
Cross Edge: Raze (Mana Khemia 2 Fall of Alchemy), Zelos (Spectral Souls)
Catherine: Toby

and the mysterious voice/Astaroth

Dead Or Alive: Dimensions: Hayate
Digital Devil Saga: Serph
Dragon Age: Origins: Sandal (ENCHANTMENT?!), Fenarel, Finn, additional voices
Dynasty Warriors (and related spinoffs): Sun Ce, Zhang He
Fallout: New Vegas: Ringo, Oliver Swanick, Henry Jamison, Nolan McNamara, Lucius, Aurelius of Phoenix, a large amount of additional voices and the male Courier.

Seriously, he voices fucking everybody. Just watch the

Basterd Brother

's Let's Play, they sure don't let him go unnoticed.

Final Fantasy IV (DS remake): Cecil

Reprised the role for ~Dissidia: Final Fantasy~.

Final Fantasy XII: Reks
Grim Grimoire: Hiram Menthe and Advocat
Guilty Gear 2 Overture: Sin and That Man
Luminous Arc: Sir Heath
Mass Effect 2: Additional voices, all of whom seem to get the short end of the stick in some way.

Mordin's assistant, Daniel, who's held hostage by batarians. Also, the Stock Boy, who's either going to get a) punched in the gut, b) believe a ridiculous lie, or c) have the situation explained to him in a heartwarming way. Feron, who gets tortured by the Shadow Broker for a couple years. Some of the salarian mercs you gun down many, many times.

Medal of Honor (2010): Tech Sergeant Ybarra
Medal of Honor Rising Sun: Ichiro "Harry" Tanaka
Medal of Honor Vanguard: Frank Keagan
Metro 2033: Lots of Mooks, most of them Nazis with strangely similar voices.
NieR Gestalt: Gideon
No More Heroes 2: Desperate Struggle: Desperate Struggle: Charlie MacDonald and Jasper Batt Jr.
Odin Sphere: Cornelius
Operation Darkness: Edward Kyle
Prinny: Turmeric of the Phoenix Clan, Morgan
Prince of Persia: The Prince in The Sands of Time, The Two Thrones and The Forgotten Sands
Professor Layton: Future Luke

who is actually Klaus/Clive

in Unwound Future.
Persona 3: Protagonist (Main Character), Ryoji, Pharos, unnamed nurse
Persona 4: Yosuke Hanamura
Phantasy Star Zero: Kai, uncredited
Radiata Stories: Daniel
Red Faction: Guerilla: Nameless guerillas
Red Orchestra: Ostfront 41-45 2: Heroes of Stalingrad: Nameless German soldiers
Resident Evil Umbrella Chronicles: Richard Aiken
Retro Game Challenge: Young Arino
Rogue Galaxy: Steve
Saints Row 2: Shogo Akuji, generic voices
Shadow of Destiny (PSP Version): Eike. Nostalgia Filter built a lot of criticism about him not sounding like the old voice actor, but his performance is very solid.
Shadows of the Damned: Elliot (FUUUUUUCK YOOOOUUUU!)
Siren: Howard Wright
Soul Calibur IV: Arcturus, Custom Male Voice 1
Soul Nomad: Gig and Male Protagonist
Spectrobes: Rallen
Star Ocean 1: Roddick
Suikoden V: Kyle and Shula Valya
Tales of the Abyss: Luke fon Fabre and Asch
Trauma Center: Derek Stiles
Trauma Team: Little Guy

and Derek Stiles

Tron: Evolution - Battle Grids: Player-controlled ISO character
Valkyria Chronicles: Johann (in Selvaria DLC)
Wild Arms 4: Arnaud G. Vasquez
Wild Arms 5: Dean Stark (Seriously who forgot him after writing

WA 4

)
Xenosaga Episode III: Also sprach Zarathustra: Kevin Winnicot (replacing Chris Smith)
---
Tropes Associated with Yuri Lowenthal: