Wiki Targeted (Entertainment)
Play Sound

YMMV •

Radar

•

Quotes

• (

Funny •

Heartwarming •
Awesome

) •

Fridge

•

Characters •

Fanfic Recs

•

Nightmare Fuel

•
Shout Out

•

Plot

•

Tear Jerker

•

Headscratchers

•
Trivia

•

WMG

•

Recap

•

Ho Yay

•

Image Links

•

Memes

•

Haiku

• Laconic •
Source

•

Setting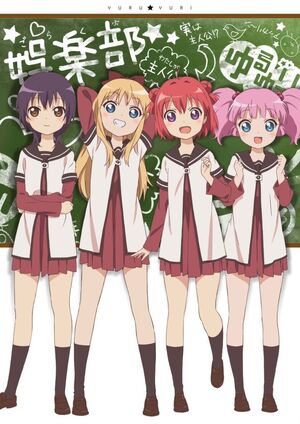 Yuru-Yuri stars three middle school girls, Kyouko, Yui, and ... um, y'know, wosshername. (checks hand) Akari, that's it. When the tea ceremony club disbands from lack of interest, they take over the room for their own "amusement club," which is an excuse to goof off and hang out with much silliness ensuing. Eventually, a new cast member shows up in Chinatsu, a new student who just wanted to join the tea ceremony club and the club ends up using her to complete their Four-Girl Ensemble. After a bit, student council members Ayano and Chitose and their juniors Himawari and Sakurako get involved in the story and even more silliness ensues.
Yuru-Yuri is a Moe Slice of Life comedy that originally ran in the Girls Love anthology Yuri Hime S. An anime adaptation debuted on the Summer 2011 Anime season. From this series, the audience can expect a fair bit of Les Yay and Breaking the Fourth Wall humour. There is also a Spin-Off of manga one-shots called Yuri-Yuri, which puts the romantic entanglements in a more serious light and subsequently scores considerably higher on the Yuri-scale.
A second season has been green-lit.
---
Tropes used in Yuru-Yuri include:
 Mirakurun: If we work together, we can defeat anyone!

Raika-chan: I suppose I must. After all, I'm so nice.
 Mirakurun: Raika-chan, are you my rival?

Raika-chan: Don't look so betrayed, no one made you trust me.

Mirakurun: Are you saying that, when you tutored me, and treated me to a dinner, Was It All a Lie??

Raika-chan: You are so trusting. Getting close to you was easy.